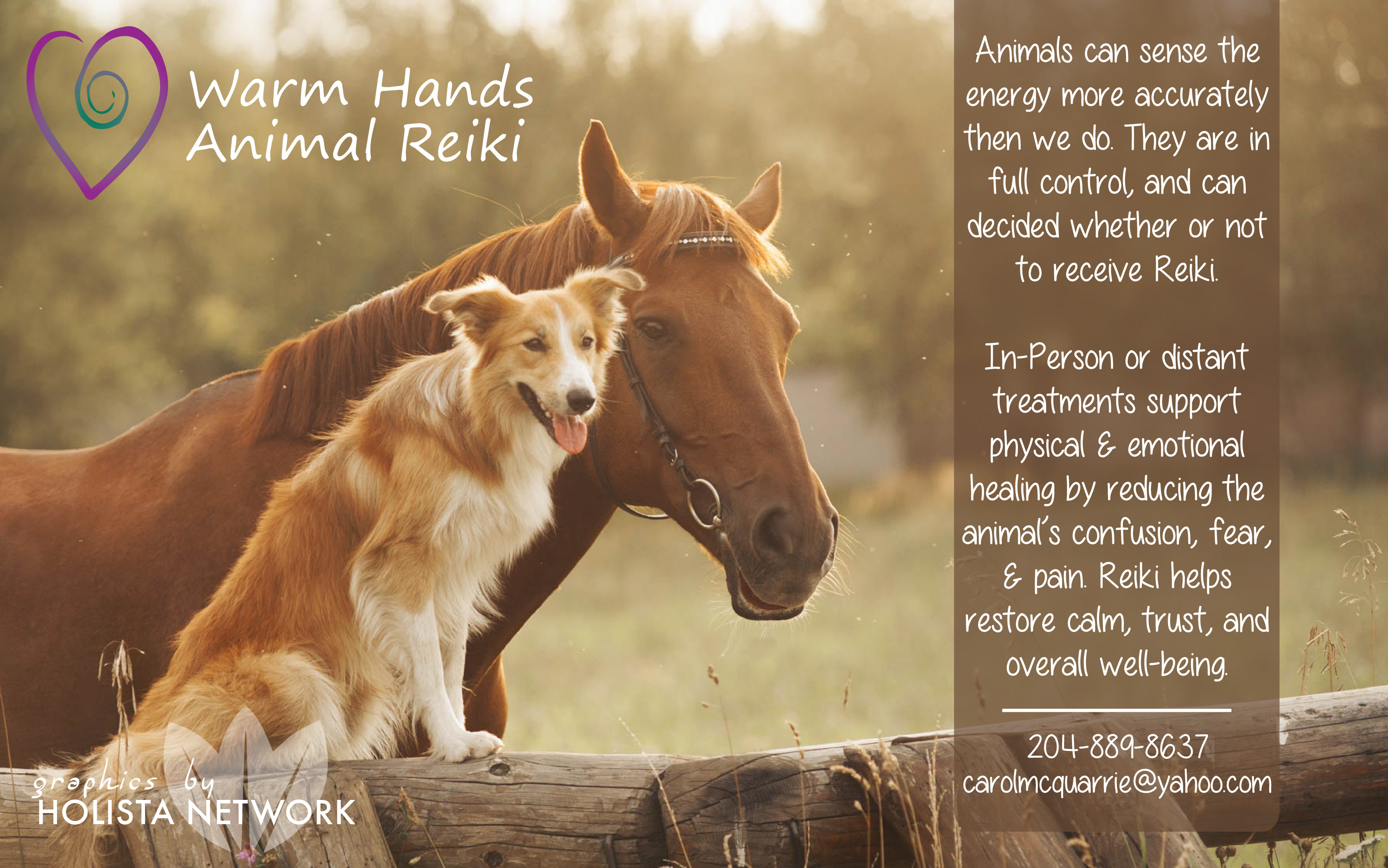 REIKI
Animals and people respond intuitively to Reiki's power to support the healing of emotional, behavioral, and physical illnesses and injuries. For those who are healthy, Reiki helps to maintain their health, enhances relaxation and provides an emotional sense of peace and contentment.
REIKI IS NOT A SUBSTITUTE FOR MEDICAL DIAGNOSIS AND TREATMENT
Reiki is a wonderful complement to all forms of medical care. It is not intended to replace traditional medical treatment, but rather to complement and enhance it.
Reiki practitioners do not manipulate energy or control treatments — restorative energy is channeled through the practitioner to the client.
Reiki sessions are given for the purpose of stress reduction and relaxation to promote healing. Reiki can do no harm. It is non-evasive and can be done hands-on or at a distance — whatever works best for you or your animal companion.
ANIMAL REIKI TREATMENTS
Animals sense the energy more acutely then we do. They are in full control, and can decided whether or not to receive Reiki.
Each treatment is scheduled for approximately 30 minutes. Treatment for pets is done at your home or an external location, where your pet is most comfortable.
In-Person Sessions
In-person does not necessarily mean hands-on. Sometimes your pet may not want to be touched. That's okay. I can offer Reiki to him just by being in the same room and the energy will flow from my hands to your pet.
Each animal determines how they receive the Reiki, how much Reiki they receive and for how long. I may offer Reiki with my hands a few inches away from the animal. For some animals, however, this is too intense and they prefer that the Reiki be offered from a few feet or more away.
Sometimes an animal may not wish to receive Reiki, and I fully respect this decision and share it with their human companion.
Distance Sessions
Distance sessions are as effective as in-person sessions, and are often preferable if an animal is excitable, anxious around strangers, or very ill.
Each animal's needs are different. Depending on the situation, results can be seen immediately or within a day or two. Sometimes it is necessary for the animal to have several sessions over a short period of time.
AROMA TOUCH TECHNIQUE
AromaTouch Technique is a clinical approach to applying 8 essential oils along energy meridians of the back and feet. Shorter treatments may be given for hands only or feet only, using essential oils chosen by the client to address their particular issue.
Incorporating 100% Certified Pure Therapeutic Grade doTERRA Essential Oils, this treatment is beneficial for people looking for relief from stress and pain.
The essential oils help reduce physical tension and emotional stress, enhance immune function, decrease inflammation, and balance the autonomic nervous system.
Carol McQuarrie
Reiki
AromaTouch Technique
Indian Head Massage
Winnipeg Manitoba

HOLISTA NETWORK 2016